So sometimes I get a little obsessed with making things. Like the time I took Kay Cogswell's bracelet class at the Genteel Arts conference last year and BAM...twenty something bracelets later, I finally slowed down. And perforated paper items-I'm still burning the midnight oil due to my obsession with these. My craft room is a mix of fabric, beads, and tiny bits of paper. Both the fiance and dog are not amused by the general clutter.
Back to the dragonflies! In Part II of the great dragonfly saga (
see the tutorial here
), I will examine the documentation behind these little guys, as well as the context in which we would wear them. Though honestly at this point, my army of dragonflies look so cool, I might just start attaching them to random things around the house.
*Reminder! The original beaded dragonfly was completed by Kelly Dorman, who we remember here for her awesome contributions to the crafting and reenacting communities. Read her blog to get to know her and her amazing style. Also, I will donate a portion of any sales made from the beaded items to Crooked Tree Arts Center, and organization Kelly supported in her lifetime.
So yeah...totally skipping my Photographic Documentation. It's like finding a...dragonfly...in a haystack?
Another tidbit of information that is important: there was a movement in the 19th century for items in bonnets and headpieces to quiver or move, to appear lifelike. This was called "en tremblant," or French for "to tremble." Pieces would have a spiral of wire underneath to create the effect of movement.
The Antique Jewelry University
has a short explanation with images.
Textual Documentation


Peterson's Magazine, January 1864
La Mode Illustree, March 1864
(Feel free to translate, but it mentions insects in fashion)
Godey's Lady's Book, March 1864
Among the very latest novelties are snails, large caterpillars, such as we see on grape-vines, and as long and thick as a lady's little finger, butterflies made of the most transparent materials, others of mother-of-pearl, beautifully colored, dragonflies and snakes. Yes, dear readers, actually snakes, fully a quarter of a yard long. All these reptiles so closely imitate nature that you really feel reluctant to take them up and examine them. We think this mania rather carried to excess. But what is to be done. The ladies are never satisfied, novelties must be had. Like Oliver Twist; they still ask for more.

Godey's Lady's Book, April 1865
The "Empress" is made with a full front spray of white Persian lilacs, surrounded by blue forget-me-nots. On this spray is a blue enamelled dragon -fly , and the long branch of white lilacs drooping over the shoulder, is dotted over with blue enamelled insects.
La Mode Illustree, April 1865
No 1 White hat covered with smooth white gauze bubbling on the white and black egret small green feathers on the hat very narrow white hat half veiled by black lace even narrower inside two cords small green leaves dragonfly on the left side white edged D narrow lace
Peterson's May 1865
While most evidence points this fashion to be later in the war, I did find previous mentions of "insects" or "nature" that was added to the coiffure in some way. Also, these seem to appear most in hairstyles, bonnets, and headdresses. The materials vary, from expensive jewels to (later) beaded adornment. Did you also notice how they become most popular in the spring?
Surviving Originals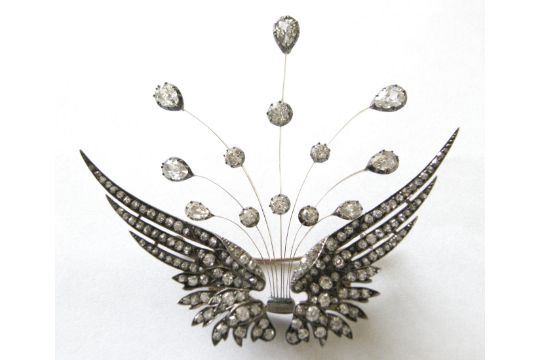 I've included examples of jewelry "en tremblant" to illustrate the popularity of the mechanism. I have yet to see a beaded example of a dragonfly (
I do have the butterfly one here
). With a pin these pieces could be attached to the hair in some fashion, or even as a brooch! Let me add that these seemed pretty difficult to date, as the style for bug pins returned in the mid-20th century, and are styled very similarly.
Conclusion
I definitely feel like there are gaps in my research for this project. I have many questions that I would ask Kelly if I could. Did she have a piece of the puzzle that indicates dragonflies were beaded as well? I've seen a few beaded butterflies flit through my research, and I wonder if she found that tidbit in one of the foreign magazines (or you know, someplace obvious that I've missed). Research is certainly a process, so I'll add that to this post as it becomes available.
Based on the research, these "tremblers" were often fashioned to resemble butterflies, dragonflies, bees, and other insects, with a sort of spring beneath. These could be made of expensive jewels, or glass beads. They would be worn as adornment on a bonnet, headdress, or a part of an elaborate hairstyle. In any case, we know dragonflies were a popular motif, and I imagine a lady would find them delightfully charming as they hover in a hairpiece. They would stand out for sure!
Back to my reproductions-they're finished! I have a million beads in my house. On the floor. In the couch. Stuck in the treads of my shoes. Ah, the price of beauty. Here are my reproductions of Kelly's crafted item. They are $25 each, with $2 added for shipping.