Seriously, I should sleep someday. How do I make time for this?
Well, dear reader, the fact is that I DO make the time, and you are the one to benefit for it! (Also, I benefit for having a creative outlet for my energy). Today's tutorial involves the acorn thread waxer, or as I affectionately call it, the project-I-really-want-to-do-because-I-don't-see-many-people-with-it.
It all began on pinterest. O, that obsessive online forum that sucks the very life from my cheeks! One day I was minding my own business, perusing that sweet addiction, when I can across this picture.
IT MUST BE A MISTAKE! NOTHING THAT PRECIOUS COULD ACTUALLY EXIST! BUT THEN...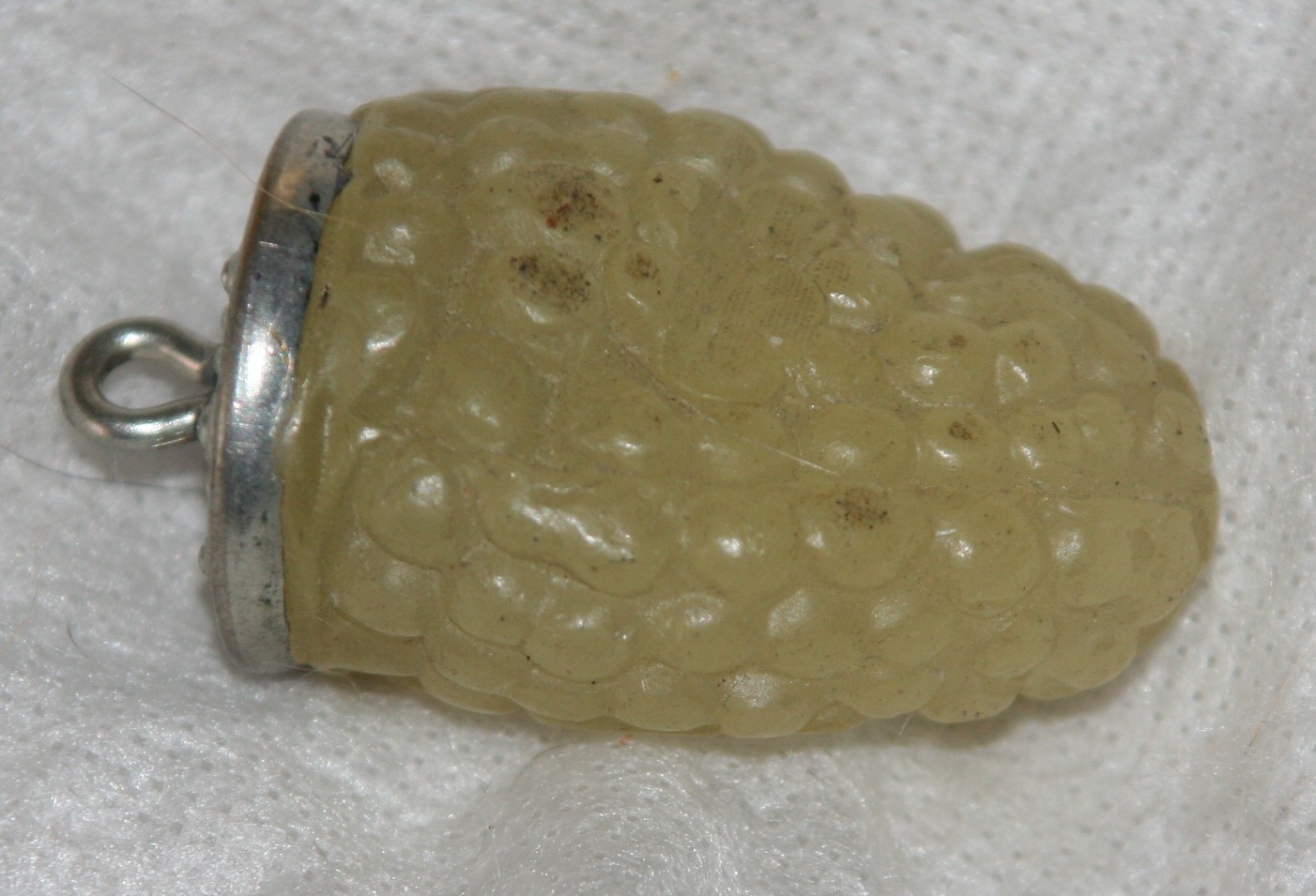 http://www.ebay.com/itm/ANTIQUE-VICTORIAN-FIGURAL-RASPBERRY-THREAD-WAXER-c1890-STERLING-Chatelaine-Fob-/271067317168?pt=LH_DefaultDomain_0&hash=item3f1cdf03b0
My mind racing, my heart pounding, I kept finding more images...

http://i.ebayimg.com/t/Unique-pair-of-Sterling-Cap-Strawberry-Emeries-1-is-Wax-/00/s/MTIwMFgxNjAw/$(KGrHqZHJBYE9uMIY7JsBPiG(95RlQ~~60_57.JPG?rt=nc

http://www.ebay.com/itm/VICTORIAN-wax-BLACK-RASBERRY-BUNCH-STERLING-SILVER-leaf-cap-for-waxing-thread-/271293932903?pt=LH_DefaultDomain_0&hash=item3f2a60e567
It started to make sense. I'd been carrying around this lump of wax, having already lost previous ugly lumps. It was an embarrassment, an ugly outfit that I wore for its utility, not style. Why not carry a little thread waxer on a string, in a pleasant shape? Next came the historical research...
Godey's Lady's Book, 1864
Yes, they do exist in the wax form, not only in real life examples, but in Godey's Lady's Book! Determined, I decided to give it a try.
1. Start by melting the chunk of wax in a double boiler. Since I am too lazy to buy one, I simply put water in one pot, and the other in it with wax. WARNING: You might burn yourself. Don't be cheap like me, buy yourself a double boiler.
2. Prepare your mold. I just pressed this acorn top into the play-dough. That is the little soutache that I held in it while it tried (1 minute at the most).
3. When it is completely dried, remove play-dough, slip on bead cap, and enjoy your work!
4. Or you could admire how many went so terribly wrong...
Please...put us out of our misery...
My creative side satisfied, I went to bed. Just kidding! I had to stay behind and clean up that massive mess I made in the kitchen. It was totally worth it for that one acorn!
There is nothing more fulfilling than having an experiment work!
~Kristen
*******Hey everyone! Voting for the American Duchess Photo Contest continues until Fri., December 6th! I am currently in 2nd place!
UPDATE: The contest was canceled due to a cheater.