I love pretty dresses. I love the rustling sound of a crisp taffeta, the soft lightness of a cotton voile. Every wool, linen, and batiste catches my attention. However, this project made me fall in love with canvas.
It all started when I needed something to cover my cooler. I generally don't bring many refrigerated items to reenactments, but occasionally I like cool butter or eggs. So I lugged around this cooler, and needed to cover it to make it more accurate.
At first I just used a scrap of fabric. This didn't work at all, as the slightest breeze would pick it up and leave my farbiness for the world to see. Then I upgraded to this wonderful basket from my Stepmom's stash that was just the perfect size. While it did work, the design was flawed. It was too heavy and bulky for my vehicle. This went on for two seasons.
Note the offending basket on the left
Finally, I decided to make a cooler cover for this year's Charlton Park reenactment. I must say, it has been one of my most useful projects to date. Probably the easiest too. Let me explain...
1. Cut 5 panels for the sides and the top of the cooler. Cut them a few inches bigger than the cooler, because it will shrink. Leave the bottom open, since it is a pain to shimmy the cooler in to the fabric (thanks Sue!). Sew 4 pieces together.

2. Next sew the lid on the inside of the box you've created.
3. Finally, make little ties with leftover canvas...
4. ...And voila! canvas cooler cover!
I can't believe it took me this long to do such an easy project. It was also inexpensive; $5 for everything! And in under and hour!
Earlier this year I was searching for a cover through a website, and the best I could find was this one through Blockade runner. I suppose if you're short on time and don't mind spending the money, it would be an excellent idea.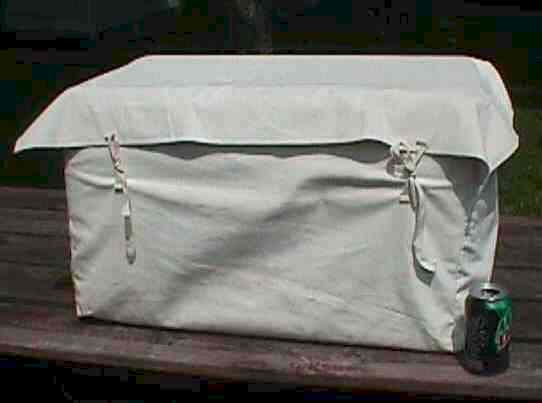 These would also be a great gift idea! I think of all the people just starting in the hobby, looking for inexpensive ways to transport food. I might just make a few more! And look how small it folds up! Sure beats that bulky basket...
Tell me what you think! Do you have any other ideas for stashing farb at events? I feel so clever right now, but I'm sure there are more ways to hide farb....
~Kristen